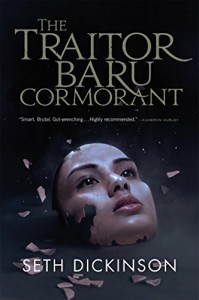 I'm clearly in the minority on this one if you look at reviews, so it was somewhat heartening to meet up with my book club and discover they also had lukewarm feelings. Here's the thing: Dickinson crafts lovely prose. Sentence for sentence he is absolutely masterful. There were passages in this book I read over and over again. But when it comes to crafting a story as a whole? I just didn't buy in.
I loved the beginning of this book. The early chapters, when Baru is young and we get our first sense of how the Masquerade is trampling her people, had me sucked in and thinking this book would be a favorite. And then the story picks up, moves to another location, and stays there for the remainder. The rest of the book sets up scenarios, characters, and plot points, and none of them ever grabbed ahold of me or made me care. The plot attempts to twist and turn, but for me it just knotted - it seemed overly complex, and yet at the same time predictable, which is quite the trick. The supporting characters do things that seem convenient to the plot, but ultimately make no sense to me, thus breaking some of my suspension of disbelief.
And through it all Baru continues to tell you how awful she is, and is true to her word at least in that respect. That might be the thing that kills this book for me the most: I can't stand Baru. I read for character, and I just did not enjoy hanging out with this person for 400 pages. (Tain Hu on the other hand was pretty great. Lord knows what she sees in Baru.) For any Potter fans, this book reads like the Slytherin handbook - how to influence people and then screw them over for your own gain...the book! It's in the title. It's right there. But somehow that didn't make reading it any more enjoyable.
Here's the thing, if you like books that are rooted in political wheeling and dealing this might be your cup of tea. I mean, it's about vengeance through accounting, c'mon! And if irredeemable and terrible people aren't a big turn-off you also might love this book. As for me I need someone to cheer for, and I just couldn't cheer for Baru. I concede I'm in the minority here, so your milage may vary.